Preventing Upper Extremity Injuries in Pitchers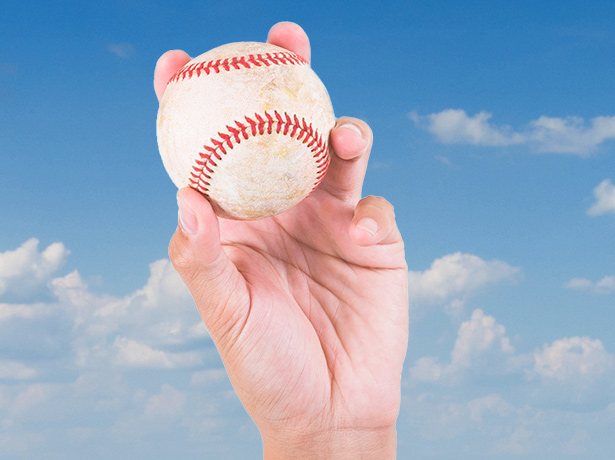 By Lynne Young, M.Ed, ATC
There are almost 500,000 baseball-related injuries treated each year. These injuries are mostly caused by overuse, repetitive throwing, poor mechanics, muscular imbalance and weakness, and inflexibility. The most common injuries seen include: Little league elbow; little league shoulder, sprains, and strains.
Overuse injuries are the most common type of injury that affects young pitchers. Studies have shown up to 40% may develop some sort of overuse ailment. Traumatic injuries are less common with the most frequent an avulsion fracture of the medial elbow. Research has shown that the most common factor is the number of pitches thrown. The more pitches thrown per game, per week, per season, increases the risk for injury.
Additional risks include lack of full recovery between pitching outings, pitching while fatigued, and certain pitches (breaking pitch at a young age). According to present research, the higher the number of pitches thrown per game, per week, and per season the greater risk of injury. In an effort to reduce these common preventable injuries to the upper extremity, Little League Baseball enforces the following pitch count regulation guide:
Maximum Pitches Per Game




7-8 year old



50 pitches/day

9-10 year old
75 pitches/day
11-12 year old
85 pitches/day
13-16 year old
95 pitches/day
17-18 year old
105 pitches/day


A pitcher's muscles, tendons, and bone growth centers need adequate time to rest. If rest is insufficient, skill improvement decreases and injury risk increases. Pitchers should have at least 24 hours of rest after each pitching episode. Once removed from pitching in a game, they should not return to pitching in the same game.
Rest Regulating for Pitchers

Age 14 or younger:




66 + pitches/game



4 calendar days

51-65 pitches/game

3 calendar days

36-50 pitches/

game



2 calendar days


21-35 pitches/game



1 calendar day
1-20 pitches/game

0 calendar day



Rest Regulating for Pitchers

Age 15-18:




75 + pitches/game



4 calendar days

61-75 pitches/game

3 calendar days

46-60 pitches/game

2 calendar days


31-45 pitches/game



1 calendar day
1-30 pitches/game

0 calendar day
Additional prevention recommendations to decrease the risk of injury.
Learn and practice proper techniques and mechanics
Warm-up properly before all practices and games (warm up to throw, DO NOT throw to warm up)
Do NOT pitch through pain
Do NOT pitch through fatigue
Avoid playing on multiple teams during a single season.
Take at least 3 consecutive months off from pitching each year
Avoid other overhead sports during baseball season
Rotate other positions
Adhere to pitching guidelines
Speak with a Sports Medicine Professional if you have any concerns about baseball injury or injury preventative strategies.
If athletes complain of elbow or shoulder pain the day after throwing, or movement of the joint is painful or decreased compared to their other side, seen a Sports Medicine Physician and/or Certified Athletic Trainer immediately.
References:
American Academy of Orthopedic Surgeons
Little League Baseball
Professional Baseball Athletic Trainers Society
Contemporary Pediatrics
Work by: James R Andrews MD; Glenn S. Fleisig PhD
Lynne Young is a certified athletic trainer with Orthopedic Physicians Alaska.