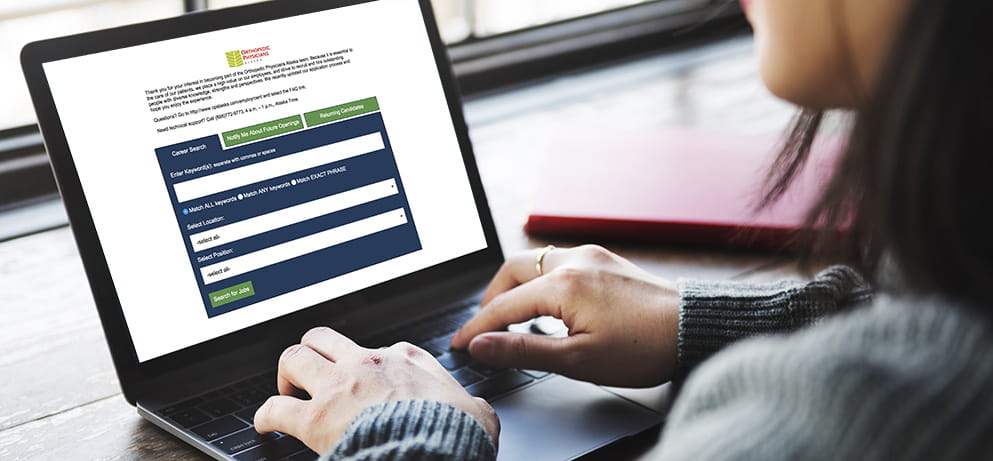 Employment
The vision of OPA is to provide the finest orthopedic surgery care in North America by offering high-quality, patient-centered service. Each of our physicians works in concert with a certified orthopedic surgical physician assistant (PA-C) and other staff to provide patients an individualized care-team experience.
Employees enjoy opportunities for professional growth in a collaborative environment and exposure to a full range of orthopedic care with orthopedic, injury walk-in, and rheumatology clinics, as well as an imaging center, physical therapy, athletic training, and close affiliation with Alpine Surgery Center and Alpenglow Short-Stay Assisted Living, all on-site at our Anchorage location.
About Working at OPA
OPA values quality, patient-centered care, personal fulfillment through continuous improvement and team development, as well as community service. We welcome applicants who embrace our core values and possess a daily renewed attitude of excellence.
COVID-19 Notice
OPA is committed to the safety of its employees and customers. That's why we're taking extreme precautions to prevent the spread of COVID-19 at our facilities. Until further notice, all employees, patients, and visitors who enter an OPA facility are being screened for COVID-19 symptoms, including a temperature check. We are also enforcing the use of face masks at all times in our facilities, encouraging physical distancing in our workspaces and waiting areas, regularly sanitizing high-touch surfaces, and adhering closely to State of Alaska mandates regarding out-of-state travel. The success of these measures starts with our outstanding employees.