Understanding Hip Impingement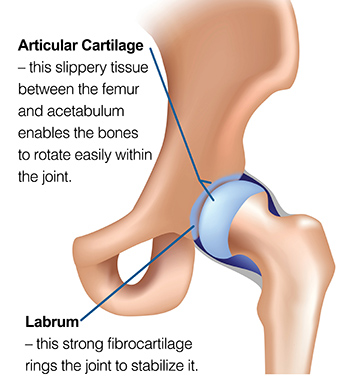 The hip is a ball-and-socket joint, where the femur (ball) fits into the cup-like acetabulum (socket). Both surfaces are lined with a slippery tissue — the articular cartilage — which enables the bones to rotate easily. A strong fibrocartilage, called the labrum, rings the joint and provides stability.
Hip Impingement or "FAI"
Femoroacetabular Impingement or FAI results from an orientation, shape or overgrowth on the femoral head (ball) within the acetabulum (socket) that prevents a full range of motion.
The impingement often causes damage to the joint, such as tearing of the labrum likely to result in joint instability and breakdown of articular cartilage (osteoarthritis), causing pain and restricting movement.
FAI Specialists
OPA's FAI specialists are board-certified orthopedic surgeons who also practice sports medicine and have a keen interest in helping athletes and anyone wanting to return to an active lifestyle.